Meet the Georges Chiropractic & Wellness Center Team

Starr Sepulveda
Office Manager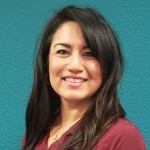 I started as an intern with Dr.Georges in 2011 and was hired on as the back office assistant. I am now the Office Manager and will go above and beyond to answer our patient's concerns. I always welcome patients with a smile and will do my best to make you feel at home.
I've grown so much as a person and have discovered personal strengths by simply interacting with our patient's and the mentor-ship of Dr. Georges. I dedicate my free time to my family and weight training in the gym. I'm passionate about sharing how chiropractic care is a lifestyle for me and not just a means of temporary pain relief. I look forward to meeting you in our office.
---
Noemi Gomez
Licensed Massage Therapist
I am a licensed massage therapist and have been in this profession for ten years. I enjoy my job because I like to provide people with relaxation and well- being through therapeutic touch. I like to provide a sunny disposition and a cheerful spirit to whoever comes into our office. I am skilled in massage modalities such as Swedish, deep tissue, sports and prenatal massage. I also assist the doctor with back end office work.
When I'm not at work  I like to stay active by running and cycling. It is a joy to be part of a team whose ethics revolve around making people feel better.
---

Ready to get started? Contact our El Paso Chiropractic office today!
---
El Paso Chiropractic Team | (915) 592-3333