Meet Dr. Tom Georges
When I was growing up, chiropractic was a way of life, not a treatment for aches and pains!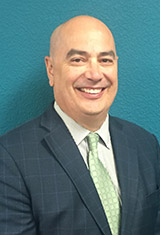 My Chiropractic Journey
My father was a chiropractor in the small Illinois town where I was raised, making me a second generation chiropractor. Although he and I never had a conversation about my career path, it was always "understood" this was something I aspired to do with my life as I got to witness the positive effect he had on others lives first hand. I frequently tell the joke that every night when he got home from work and asked us kids about our day, any negative answer was a guaranteed trip to the office for an adjustment. It was his way of keeping his kids as healthy as he could.
Chiropractic Education
I attended Illinois State University for my undergraduate studies. Thru a series of interesting choices and opportunities, I ended up in Houston Texas to attend Texas Chiropractic College where I graduated in 1987. After passing the state and national boards, I opened my first practice here in El Paso in September of 1988.
A Little About Me
This year will mark our 29th anniversary here in El Paso. Truth be told, I couldn't imagine establishing a home and practice anywhere else. I am married to Donna and have two truly remarkable children, Tag and Hanah. Hobbies include racing a dirt modified on the weekends and occasionally picking up a guitar as a feeble attempt at getting me out of my analytical, left brain.
When we are not racing, Donna and I enjoy traveling and make it a point to get away from El Paso at least a few times a year, usually to a beach as I have found this best allows me to re-charge my batteries.
Health Habits
I'm a chiropractic kid and continue to receive regular chiropractic care. The simple idea that the human body is a self-healing, self-regulating organism that I learned at an early age has guided me my whole life.
I enjoy going to the gym three times a week and do my best at maintaining a regular, healthy diet. I believe every decision we make in our lives takes us either closer to better health or farther away from it. For the most part, I keep that in mind when making decisions about my diet, exercise and overall mental health.

Thank you for checking out our site. I look forward to the opportunity to meet you and learn about your health goals. Perhaps together we can take a giant step towards better health for you.
Call our office or email me today!
---
Chiropractor El Paso | (915) 592-3333